Your Top Choice for Commercial Signage Solutions
Seiz Sign Company is a licensed contractor and full-service electrical sign company. We can create any sign your business may need.
It is difficult to describe all we do because most of our services are utilized for custom projects.  From indoor wayfinding signs to outdoor LED displays, we create all signage solutions for small businesses. Find out a little more about what we do below or let us help you find a sign solution for your business.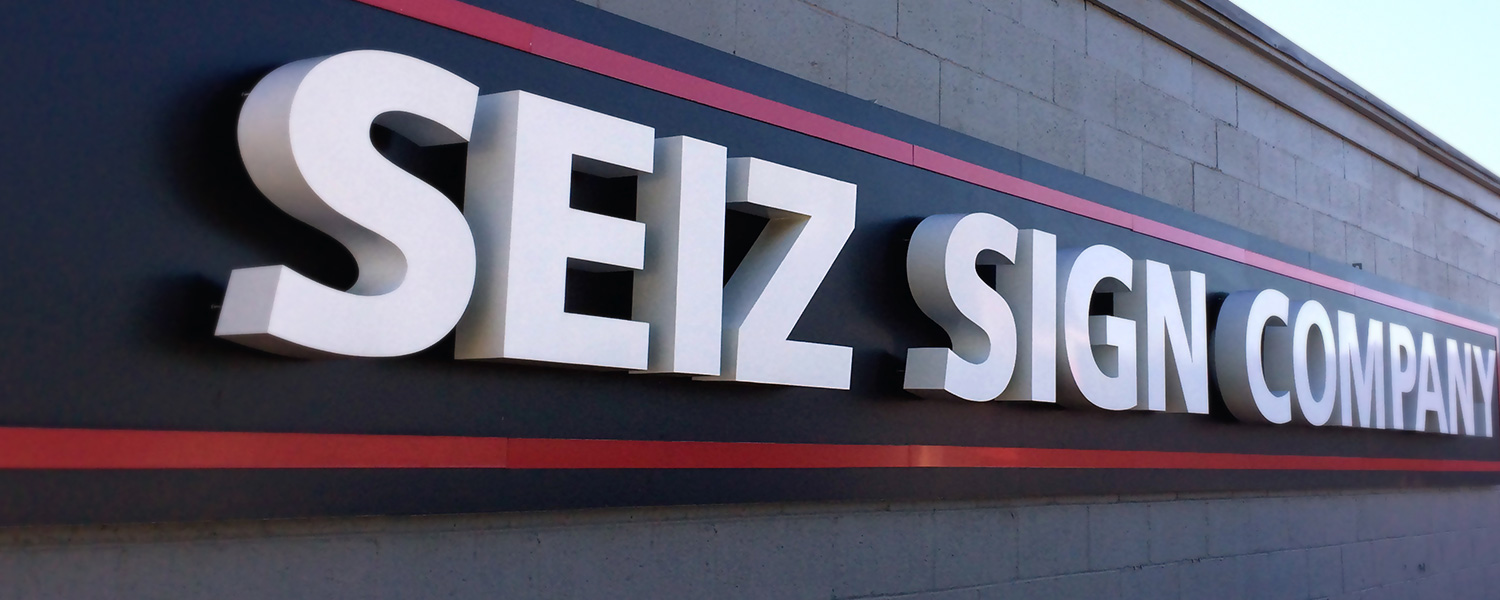 A Full-Service Sign, Billboard, and Graphics Company
Electrical Signs
If you need a sign that has an electrical light source, we are the ones to call. A licensed sign company in Hot Springs. Have your name in lights!
It's Shocking
It takes a licensed electrical sign installer to produce the sign you're wanting. We install UL-approved components and make sure your sign meets city regulations.
Billboard Advertising
Outdoor advertising is a great way to spread the word about your business. SEIZ has the best selection of boards in Hot Springs.
Simple and Effective
We take pride in our billboard assets. We have great relationships with property owners, and we can design a bold advertisement that works.
Letters, Letters, Letters
Any channel letter or dimensional letter, we can have produced for you. We have the best connections in the sign industry.
And Even More!
Our experience can help you make a buying decision on your next set of letters. Indoor and outdoor. There are applications we can show you that others simply cannot.
Free Standing Signs
With pylon signs, the sky is the limit. These signs allow you to create an image high and effective. Also, post and panel sign options.
Pole and Monument
We can design and fabricate a solid sign foundation that will work for your business for years.
Wall Signs
From an aluminum panel to a custom shaped lighted sign. Wall-mounted signs offer infinite possibilities including interior or exterior wayfinding signs.
Flat-Out Awesome
Make your building a backdrop to your most effective advertisement. Flat face or raised letters, printed graphics or cut vinyl graphics, LED lighted or non-lighted.
Promotional Graphics
Vinyl graphics that are a cut above the rest. Your lettering and logo on almost any surface. Full color printed vinyl graphics.
Branding That Sticks
Windows, doors, vehicles, and more. Apply your brand image to surfaces for effective business promotion.
Illuminated and Electrical Signs
Make a bright and colorful impression with an illuminated sign. Seiz Sign Company offers a wide range of options to fit your needs. We have everything you need to increase your visibility and attract customers, day or night. Put your message in the best light possible with cabinet signs, pole signs, monument signs, illuminated channel letters, backlight signs, and LED displays.
Cabinet Signs – Spotlight your brand and business location
Pole Signs – Keep your message high and visible from a distance
Monument Signs – Elegant display for your company name
Channel Letters – Your name in lights! Custom shaped lighted letters
LED Displays – Eye-catching graphics for advertisement promotion
Billboard Outdoor Advertising
Outdoor advertisement has a long history. Yet it remains one of the most effective ways for any business to advertise. We offer over 90 billboard locations and 225 faces throughout the Hot Springs and Garland County area. We also have a large outdoor LED digital display for spot messages. SEIZ Sign Company can help you effectively reach a local target audience. We can design, print, and install an outdoor advertising campaign that gets results.
Billboard Advertising – Still strong as one of the best ways to advertise
Outdoor LED Display – Advertise on a rotational basis with our digital board
Large Format Vinyl Printing – Printing vinyl graphic images up to 16 feet wide
Graphic Design Services – We can help you craft your advertising campaign
Letters, Letters, Letters
Outdoor dimensional lettering is effective signage to grab attention and direct customers to your place of business. This custom outdoor signage solution can be installed directly to your building facade or to self-standing signage structures. Custom lettering installations also occur indoors. Applications include main building identification, way-finding signs, and backlit dimensional letters.
SEIZ Sign Company offers custom outdoor dimensional letters and lettering in a vast array of sizes, shapes, and materials, including metal and high impact acrylic. All of our lettering materials are durable for outdoor use and available for any budget cost.
Channel Letters
Dimensional Letters
Directory Signs
Way-Finding Signs
Room Labels
Monument Signs
Stadium Signage
Promotional Vinyl Graphics
Self-adhesive vinyl lettering works great on plastic, metal, glass, windows, cars, trucks, vans, or any other smooth surface. SEIZ Sign Company can create custom decals with your logo or graphic. Emblazon your branding across company vehicles or on the windows at your business location. Our high-quality vinyl graphics and car wraps will attract attention to increasing awareness about your business.
Car and Truck Wraps – High-impact vinyl graphics applied directly to your vehicle
Window Vinyl – Store hours and identification information directly on the window entrance to your store
Perforated Vinyl – Full coverage, full color graphic images and text that also add a tint/shade benefit
Cut Vinyl Decals – Personalize by choosing from a variety of vibrant solid color vinyl that really pop
Logo and Graphic Design – Experienced graphic designers who can create a custom brand image