Seiz Sign Company was founded in 1908 in Hot Springs, Arkansas. It continues to be a family-run corporation, now in its fourth generation serving customers throughout the State of Arkansas.
Seiz Sign Company is a full-service electrical sign design, installation, and repair company. We manufacture and install fluorescent and LED illuminated signs for Arkansas businesses.
We also offer complete graphic design services, vinyl graphics production, and large format printing. Seiz manufactures and installs aluminum signs, truck lettering, and banners.
Seiz Sign Company is the largest outdoor advertising company in the Hot Springs area. Visit our billboard section for a complete listing of our locations.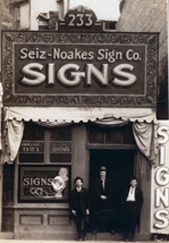 Seiz Sign Company continually strives to be a good corporate citizen and involved in our community. We believe we can have the kind of community in which we would all like to live and work only if we participate in community service, community involvement, and community development.
We contribute to the community by providing discounted or donated signs and outdoor advertising to numerous charitable and public service oriented organizations. We were selected in 1999 as the small business of the year in Hot Springs for our community service work.